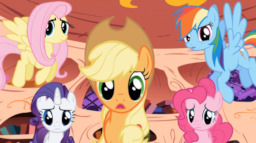 A human appears in Equestria, meeting Applejack and soon the rest of the ponies of Ponyville. He does his best to cope with the new situation, especially those that move faster than he might be comfortable with. The first year of his time in Equestria.
Set approximately seven years before the events of MLP:FiM.
Sex tag is for relationships between human and ponies (no clop).
Continued in:
Alternate Beginnings: Year Two
Behind Closed Doors (Mature continuations of select * chapters)
Has a finished rewrite! Takes things a bit slower, lasts longer, has * scenes integrated into the story (Mature).
Chapters (27)