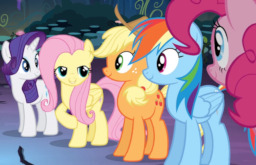 This story is a sequel to Alternate Beginnings: Year Four
---
Herd Apple continues to grow, making new friends, but concealed foes threaten to prove that there are monsters lurking. But, what makes a monster? Is it the choices you make? Or does merely having the opportunity and the inclination to do so qualify? After all, what kind of being would willingly allow a terrible situation to occur, if you had the power to prevent it in the first place?
Reading of previous books is not required, though some events from earlier years may be referenced.
Set approximately three years before the events of MlP:FiM
Sex tag is for relationships between human and ponies (no clop).
Previous Years:
Alternate Beginnings: Year Four
Continued In:
Alternate Beginnings: Year Six
Chapters (21)