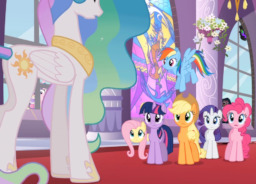 This story is a sequel to Continuity Disrupted
---
Herd Apple has gone through many changes in the last year, and now eagerly await the Grand Galloping Gala. Everything they could ever ask for will be there: Swordplay, arguing, torment, vengeance, titans, humans, pursuits, flights, true love, deus ex machinas!
The story starts in Alternate Beginnings, advances in Continuity Disrupted, with mature continuations of select scenes in (warning: mature) AB:BCD!
Sex tag is for relationship between human and ponies (no clop).
Chapters (76)