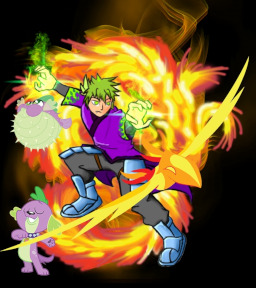 Featured: 3/5/2018 at 10:28 AM.
---
Fifteen years ago, in the Year of the Dragon, Spike Draco was blessed with a rare gift — the Dragonfire. But at the age of five, he lost it, with his memories.
Ten years later, it has returned and Spike must be ready to defend his homes – Earth and Equestria – with the friends and the families from both worlds.
---
2/17/18: Rated T for some risqué scenarios, along with violent fight scenes that may be too graphic, and fan service.
6/8/18: Rated Crossover for a mixture of Them's Fightin' Herds, and other references.
Readers' discretion is advised.
---
Edit: The original cover image, should you be interested in Momlestia and Spike, can be found here.
Co-Author: alphasteel
Editor: DGJabberwocky
Pre-Reader: Beraxus
Chapters (114)