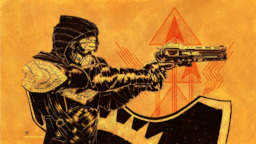 This story is a sequel to Just My Luck...
---
(The spiritual successor to Just My Luck... and formally known as Just Perfect)
Hey my name is Maximus Meridius (Yes I was named after the main character of Gladiator.) and I was on my way to Comic-Con when a speeding car t-boned my car. Instead of instantly killing me the impact sent me to Equestria as a Guardian. I would have been fine with that, seeing as I'm a brony and all, but I was sent two thousand years in the past. Well I guess I could... you know wait it out seeing as I'm a Guardian now. So the big question for me is. What to do while I wait... Eh... I'll think of some thing.
(Takes part in Destiny 1 and Destiny 2 up to right before the Season of Dawn.)
(Destiny belongs to Bungie)
(MLP belongs to Hasbro)
(Cover image taken from the internet. If anyone knows who made it let me know so I can give proper credit.)
Chapters (4)