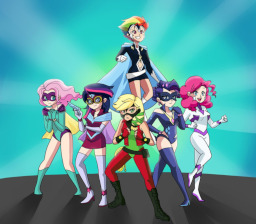 Source
Co-Author: alphasteel.
In the most crime ridden city of Mare-Tropolis, a young boy makes an astonishing discovery of six alien girls, who have all crash landed in the park. Each with unique superpowers, all dedicating their lives to fight against the forces of evil.
The boy's life was forever changed, after he became the sidekick to his new friends, the Power Princesses.
---
Co-exists with Wildcard25's The Girls Of My Life and in response to his challenge.
Chapters (5)