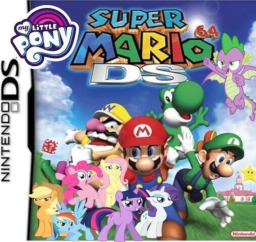 My first story for my revival of Tim Ribbert's Video Game Chronicles.
Co-Authors: Tim Ribbert and Dramamaster829.
---
The stars are powers.
Long ago, the great unicorn wizard, Starswirl, and his magical colleagues had discovered a magical cave of stories, written by the games – The Cave of Games.
Today, Princess Twilight Sparkle and friends have found the Cave of Games, unlocking the gates of worlds, and have awakened a great power from its thousand years slumber.
Now, the Equestrian Heroes are once again called forth to another adventure, where a great evil threatens the two worlds, and the Power Stars will choose their greatest defenders.
Pre-Readers: MarioBrony.
Editor(s): Dramamaster829
Chapters (16)