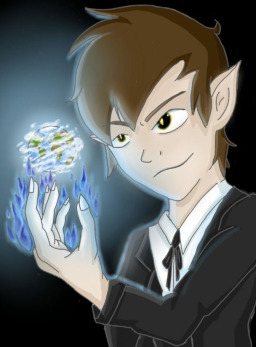 Dipper "Alcor" Pines has lived a very, very, very long and extraordinary life. Ever since he was turned into a dream demon during the events of The Transcendence, he's had to fight off crazed monster hunters who've kidnapped and tried to kill his family, other demons with ill-intent, and even an evil, twisted version of himself and his sister. On top of it all, he's had to watch his loved ones and their decendents grow old and die one by one, while he stayed forever young and weilding infinate power. And yet, nothing he's ever been through will prepare him for what's coming.
After a failed attempt at a feedback loop, Alcor finds himself in an alternate version of Equestria, boasting advanced technology fueled by magic and anthropomorphic ponies. Standing alongside the Elements of Harmony and the Princesses, Alcor will face lethal new enemies from Equestria, and old threats from his world... and perhaps, in the midst of all this chaos, Alcor will finally find his one true love in the form of Princess Luna.
A crossover with Gravity Falls' Transcendence AU. Contains Alcor X Luna and Spike X Applejack.
Chapters (4)