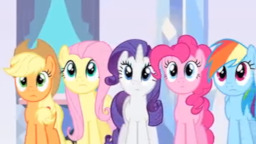 This story is a sequel to Alternate Beginnings: Year One
---
The mares of Herd Apple - Applejack, Rarity, Rainbow Dash, and Fluttershy - celebrate the birth of Apple Bloom, Sweetie Belle, and Scootaloo to the lone human in Equestria. The mares adjust to their life as dams in a town that isn't happy with their choice of stallion. Doug has to adjust a role he never thought he would have before he came to Equestria: caretaker of three foals.
Reading of previous books is not required, though some events from earlier years may be referenced.
Set approximately six years before the events of MlP:FiM
Sex tag is for relationships between human and ponies (no clop).
Previous Year:
Alternate Beginnings: Year One
Continued In:
Alternate Beginnings: Year Three
Chapters (26)