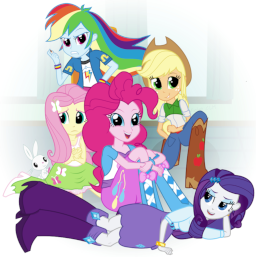 Dear Assistant Vice-Principal Iron Will,
I accept that I have to spend my Saturday in detention for what I did wrong. And, you know, at first I thought it would be easy for each of us to write an essay about who we are. After all, the five of us are so very different. The jock and the princess. The farmer and the party girl and the wallflower. I saw it all so clear, the simplest possible terms, the most convenient definitions...
An Equestria Girls fanfiction. Cover art by Violet CLM, editing by Exuno.
Warning! Contents include: Teenagers, Angsty Drama, Dramatic Angst, Bad Words, Lesbians, and Mane-Six Shipping
Chapters (7)