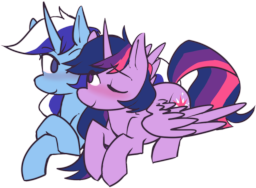 This story is a sequel to A Stallion for the Time Being
---
Minuette likes strong drinks, good-looking stallions, and Twilight Sparkle (who upon occasion has been known to be a good-looking stallion). Oh, and she's the physical embodiment of the metaphysical concept of 'Time'.
Twilight Sparkle likes books, rationally-developed hypotheses, and Minuette (in any form). Plus, she happens to be the incredibly powerful alicorn Princess of Science (totally a real thing).
Together, they have a perfectly happy (if complicated) relationship. But Ponyville has more than its fair share of mysteries, and when trouble comes knocking... Minuette is there to pretend she's not home.
---
This story is a continuation of sorts to A Stallion for the Time Being, though reading it is not strictly necessary. These short standalone stories are a change of pace for me, focused on Twilight and Minuette dealing with a variety of supernatural shenanigans. More to come as ideas strike me!
Chapters (6)