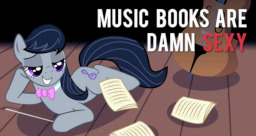 "Twilight isn't exactly a social pony." Could win me the Understatement of the Year award.
However, what most ponies don't know is that Octavia, a high-class socialite, isn't exactly much better herself, despite countless rumours about a liason between her and a certain DJ.
Now, drawn back to the upper-classes that she tried so desperately to get away from, can Twilight Sparkle find solace, and companionship, from one of the very socialite ponies of her past that she is so desperate to escape?
Chapters (10)