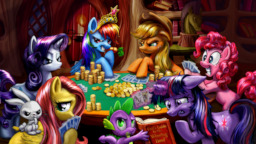 Source
Our six heroes decide to settle down for the night with a few bottles of their choice beverage and a few hands of poker.
The night was going so well until Rarity decided to wager her virginity.
Now she's desperate to get it back.
(Formerly known as Rarity Loses Her Virginity in a Poker Game. The author's artistic integrity was long gone by the time of writing this.)
Special thanks to Blue_Paladin42.
Chapters (3)