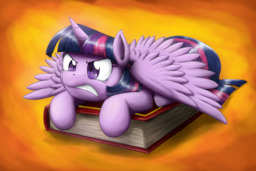 Source
Twilight Sparkle is tired of this nonsense.
Every day, a slew of articles all focused on the minute details of her life invade her beloved newspapers. "Twilight Sparkle Eats Peaches." "Twilight Sparkle Hates Tea." "Twilight Sparkle Uses a Microwave." "Twilight Sparkle Makes Toast." All of it clogging up her precious sources of information from cities across Equestria.
But no more. The time has come to put an end to it, once and for all.
Written with thanks to Marceline from the #FimFiction IRC and for no good reason other than it sounded funny in my head.
Chapters (2)