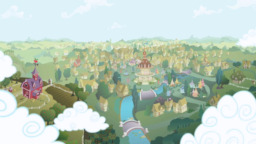 [Featured on EQD 21/4/2014] [Now on TVTropes]
When Luna gifts Twilight the town of Ponyville and its surrounding countryside as her demesne she's initially confused. Then, after double checking her dictionary, more than a little concerned.
All her friends are, legally, her possessions. The town that took her in is her plaything, if she so wishes. She has been given responsibility.
Can Twilight's vision for a modern renaissance outrun the harsh realities of the shadowy figures pulling strings behind the scenes, nobles jockeying for her attention, and an irritatingly metaphorical love triangle?
Special thanks to the insatiable Blue_Paladin42, the incorrigible Maskedferret, the intuitive Southpaw and the indestructible newbiedoodle for all their hard work, past, present and future.
Chapters (10)