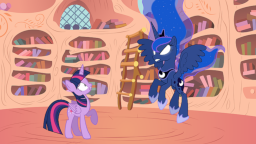 Source
Celestia had a problem. Somepony wrote a novel about Nightmare Moon's rebellion. This made Luna quite unhappy, and unfortunately for her sister, Luna has not yet gotten the hang of modern traditions like freedom of speech, the abolition of the death penalty, and not bothering Princess Celestia when she's trying to sleep.
Fortunately, Celestia also had a faithful student, one who is now a Princess with an ill-defined portfolio and perfectly capable of dispensing justice by the laws of both today and one thousand years ago.
Now Twilight Sparkle has a problem.
(Title image hacked together from vectors by Martinnus1, Hawk9mm, and Paulie15.)
Chapters (4)