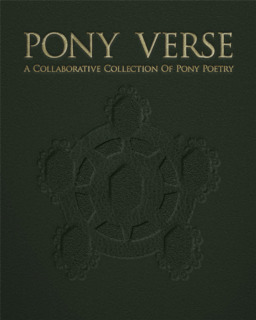 Poems are a window to the soul—a lens of wonder that reveals the beauty of the world around us. In this collection, nine of the fandom's most talented poets hold that prism up to the ponies we all cherish.
The poems in this anthology cover all main characters and a wide spectrum of Equestrian life, and range in style from strict form to free verse. We've presented them in an order that showcases the collection's wide variety of styles and themes. There's also an index if you're looking for a favorite subject, author, or poetic form.
It is our hope that this effort can make readers unfamiliar with poetry consider ponies in a new way—and in doing so, also show that poetry can be approachable, honest, and amazing.
A list of contributors follows below. Endless thanks—this project would not have been possible without you.
Poets:
darf
Aquillo
Horizon
The Illusive Badgerpony
PersianJuliet
Cynewulf
ambion
ForeverFreest
Defoloce
Fimfic Editing and Arrangement: darf
Organization and Creative Oversight: darf, Horizon
Cover Art: Pony Horse Nice-guy
ToC Lettering: Spaerk
Chapters (39)