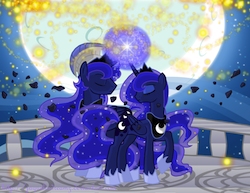 Source
Princess Luna has got into an argument with her older sister and goes to her private realm to vent. Meanwhile, in another realm, Prince Artemis has got into a similar situation with his brother. From what was a simple meeting between alicorns of the night quickly becomes anything but simple.
Rated Teen due to language and subject mater.
Note everything below this line is not important to the story in itself as it has edits to the tags, my team of editors, and feature date list.
---
A big thank you to Foals Errands for getting me cover art so fast.
EDIT:
Got onto the popular list on the same day I posted this story, WOOOOOOOOOOOOOOOOOOOOOOOOT!
EDIT
06/23/2014
FEATURED!!!!!!!!!!!!
EDIT:
To list my crew of helpful friends, that help me keep this story coming out in a well timely pace.
Foals Errands, my friend and growing co-writer of my work.
Deepsleep64, my chief editor for this story, and hopeful more to come
Pure Note , my secondary editor
Ninja-PON3 , beta reader and one insane, but fun fan.
Lord Artemis, my second beta reader and good fan that offered his services
Noble Thought a person who helps out at times.
EDIT:
Tags changed
EDIT:
New co-writer is Anon the wonderful shark mouse and a TV Trope Page
http://tvtropes.org/pmwiki/pmwiki.php/FanFic/AChanceMeetingOfTwoMoons
Chapters (23)