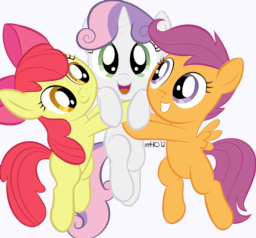 Source
Twilight has been having her study sessions with the Cutie Mark Crusaders for some time, and has been remarkably pleased with their progress. And kind of worried, as they keep getting better and better. She might be a princess now, but TEACHING THE CUTIE MARK CRUSADERS? She'd rather not become their formal mentor. Yet.
A letter is sent out, and Princess Celestia gets a call for help. And, an opportunity is born. After all, why not? After a thousand years, perhaps it is time to do something else, just for a bit. She does have a rather wonderful younger sister who hasn't been ruling a land for a thousand years, and who has been studying how to rule for the past four rather intensely. So, teaching three fillies undercover? Sounds like fun.
And Luna. She's wanted to be as respected as her sister so much that she once went mad over it. But now, she's simply being handed the power that she once coveted for so long and no longer wants. What kind of a world does she live in now that her highest desire has been so casually granted?
With all of this, What Could Possibly Go Wrong?
Arcs:
Escape: When Celestia hears the call, she jumps at the chance to teach again, especially three fillies who might surpass her grandest student. But first she's got to escape her own identity...
Examination: So you want to find out what a filly does? Time to test her silly, so long as you don't taunt the Happy-Fun Filly.
Excitement: So, you've found the Happy-Fun Filly. Great, but the other two need help as well, and Scootaloo has this ~Great!~ idea for how to use her new-found magic...
Encouragement: Cometh the Bubbles, and a whole load of new headaches as they find out just what being a Happy-Fun Filly really means...
Exaltation: Where's Luna been this whole time? She can't be very happy about being left in the lurch holding Equestria. She could really use somepony to talk to.
Exercise: 'Sunbeam' is looking to teach the Happy-Fun Filly more, but first she needs to start taking care of the wagon-tire she keeps around her middle so that certain Unfun-Time Fillies don't interrupt her. And there's this big draft stallion looking for help...
Chapters (46)