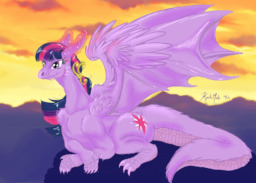 Twilight's in some pretty deep trouble. It's bad enough that she put on a lot of weight, really let her mane go, and seems to have picked up a bad habit of chewing on anything. No, that really doesn't compare with the claws that have replaced her hooves, the fact that she can stand up to about 25 meters tall, breathes fire, and had an involuntary species reassignment spell cast on her.
Mostly thanks to Trixie, looking for means to prove herself the more powerful of the two, they've both found their ponyhood lacking due to a transformation into dragons by the Bag of Tirek. Worse yet, Trixie has fallen to his corrupting influence, and become his new lieutenant in the world, preparing to release him from his adamantium tomb.
Now, it is up to Twilight and her friends, and anypony else they can drag kicking and screaming into the fight to catch Trixie and save her from her from the taint that has corrupted her, and that threatens to corrupt the world. A tall order, to be sure; but when the odds becomes so great, the fight needs to go big, lest ponykind go extinct.
Chapters (5)