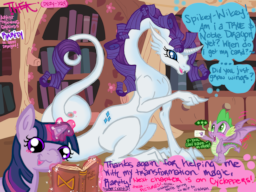 Rarity has noticed that Spike has interest in her. For the most part, she simply brushed it off as a little child crush. However, when Twilight comes up with a new spell and needs a volunteer, Rarity couldn't help but raise her hoof.
After all, it's not everyday you get to become a dragon.
Special thanks to Quillin Words for assisting me in many ways.
Chapters (3)