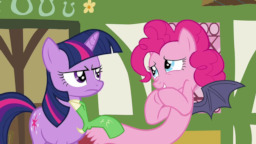 Source
A little story written in collaboration with DarknessRising, who is sadly no longer with us. (He went on to do something more fulfilling with his life. Think he became a guitar player in a famous rock band or something.)
It's Pinkie Pie's birthday, and Discord has decided to give her something special.
The entity of chaos decides to give Pinkie Pie his divine powers for one whole day.
Yay for the party pony, but a whole load of NOPE! for the rest of Ponyville.
Let's see how this turns out...
UPDATE - FEATURED! 6th of October, Monday, 2014. Meh, whatever. I prefer the Popular Section.
UPDATE - Featured. 12th of April, Wednesday, 2017. Yeah, yeah, well done me. So who wants to look into my YouTube channel at some point?
Chapters (4)