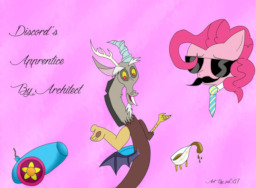 Pinkie Pie, reality's "Blind Spot." Capable of impossible things, things that nopony would understand. That is, if they ever tried. Everypony gave up on figuring her out a long time ago, including Equestria's most notorious scholar, Twilight Sparkle.
Enter Discord. He senses something that should be impossible, even for him, and traces it back to Pinkie Pie. Then he does what he should have done back when he was first freed from stone.
A.N. Cover art by the talented Hei201 Featured on March 29th, 2015.
Chapters (23)