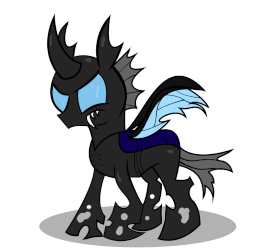 Source
After the invasion of Canterlot failed, the Changelings were given a strict rule by their Queen. No Changeling was ever, EVER, allowed to speak of that failure for as long as they lived, neither were they allowed to utter the name of the princess who defeated their Queen, lest they pay the penalty of Death.
One Changeling accidentally lets slip the name of the princess during a meal, and immediately Queen Chrysalis sentences him to die by stoning.
His execution doesn't go the way she had in mind, though...
This story based and inspired by one of my favorite scenes from Monty Python: Life of Brian.
Chapters (1)