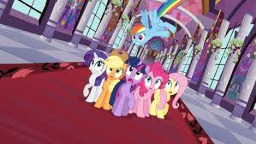 Dan wakes up to something he thought couldn't possibly happen. He's in Equestria. He doesn't know how long he is going to be here for or if there may be some greater purpose for him. All he does know is that he woke up in a tree and fell out of said tree and that even in Equestria it still hurts...oh and the ponies are still adorable.
Who knows? maybe this will turn into a bigger adventure with romance and comedy and stuff...as long as he doesn't do anything too stupid first.
With references, comedy, romance, heartbreak, anger, sadness, giant monsters, and kickass music i give you Dan's story of ADVENTURE!!!
FINALLY GOT FEATURED!!!!
HAZESHIFT 5/24/2014
AND AGAIN!!!! 1/9/2015
Chapters (44)