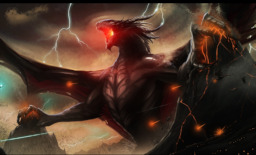 Source
Dark Flame is a young unicorn stallion who works as the local blacksmith and has protected his home village of Stonewall from constant dragon raids, earning him the title, Dragon Slayer. But when a dragon thought to be a myth attacks, Dark is left the lone survivor and loses consciousness during the fight against the mythical dragon. When he awakens, he finds himself in a hospital with a part of his memory missing, a few bodily changes, and six mares who have questions for him.
Now trying to rebuild his life, Dark will learn about his new body, try to regain his lost memories, and attempt to live a new life of peace apart from his old life of near constant fighting and survival. Though if only it were that easy. New friends will be made, secrets revealed, enemies both new, old, and supposedly dead will rise, a love will blossom, and a ghost from Dark's past will threaten to destroy what little left he holds dear to him.
This is my first fic, and any constructive criticism or advice would be appreciated in helping improve my writing, and in turn, the story itself.
Featured: 6/24/16


7/20/16
9/16/16
9/23/16
10/1/16
10/6/16
10/30/16
11/11/16
11/20/16
12/10/16
12/15/16
12/20/16
1/1/17
1/27/17
2/7/17
Chapters (100)