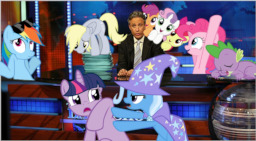 Jon Stewart needs to find a way to get more people to watch his show. To do this he welcomes a new series of guests from a far off land containing monsters, magic, and most importantly... ponies!
Join him on an adventure that has him matching wits with sentient mythical creatures ranging from god-like ponies to a fire breathing dragon! Each "Episode" marks a different MLP character getting a chance to travel to the human world for an interview on The Daily Show with Jon Stewart.
---
Please feel free to leave a suggestion for who Jon should interview next.
Disclaimer: For proper context it is highly recommended to reach each chapter in order as many interviews allude to past guests and events.
A special thanks to Zeta040, Cantankerous, and Zervziel for proofreading several stories listed below.
List of Characters who have already appeared:
- Chapter 1: Spike
- Chapter 2: Derpy
- Chapter 3: Applejack
- Chapter 4: Ms. Cheerilee
- Chapter 5: Octavia
- Chapter 6: Zecora
- Chapter 7: Mayor Mare
- Chapter 8: Twilight
- Chapter 9: Trixie
- Chapter 10: DJ Pon3
- Chapter 11: Rainbow Dash
- Chapter 12: Iron Will
- Chapter 13: Fancy Pants
- Chapter 14: Queen Chrysalis
- Chapter 15: Luna
- Chapter 16: A Changeling
- Chapter 17: Rarity
- Chapter 18: Lyra and Bon Bon
- Chapter 19: The Cutie Mark Crusaders
- Chapter 20: Discord
- Chapter 21: Fluttershy
Chapters (107)