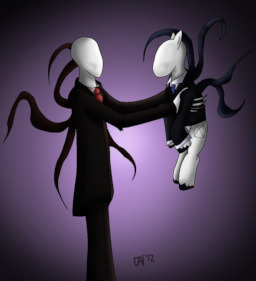 There exist tales of the Spirit of Fear. A tall, bipedal creature with no face, tendrils of darkness, and a suit so black that he blends in among the trees.
These tales still exist, although they are relegated to simply be fables to get children to behave. Even with the life-like statue of him in Canterlot, he is still seen as fiction.
The tales say he kidnaps ponies who walk through his woods, and eats them whole! The Princess herself says these tales are true! Yet, no matter what, you should never fear the name...
Slendermane.
Chapters (6)