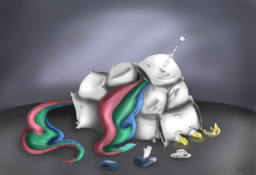 Source
This story is a sequel to Melt
---
This is a sequel to Melt, but can be read independently.
The common cold is, for Celestia, quite rare. Whenever she does catch one it's a time for privacy, reflection, and no shortage of small miseries.
That said, she's never had Twilight Sparkle on her side before. Maybe, just maybe, this cold won't know what hit it.
My thanks go to CosmicAfro for prereading
Now with even more perfect cover art!
Chapters (1)