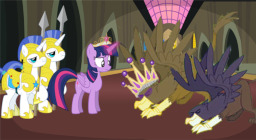 Mis-communication has started many a war, but in this case maybe calling it a war was too generous.
The "war" is over, Twilight has successfully orchestrated a bloodless end to the Griffons' aggression, but only now does she realize that there is more to winning than she had first assumed, especially against a nation that holds war as a central part of their culture...
Now Twilight must deal with the aftermath while facing a challenge she never anticipated: being seen as a conqueror.
This can be read alone, but I recommend reading the letter that started it all for a chuckle and a little exposition. This series of expositional one-shots can also give some additional world-building.
Chapters (13)