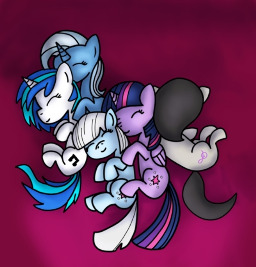 Source
Twilight, thanks to her new royalty, has been in Canterlot very often recently. In fact, for the past two months she hasn't been able to make the trip to Ponyville.
Though, she has wrote them all plenty, her friends all want to see her. With this thought, the five close friends head out to surprise the new princess.
However, they may very well end up to be the ones who get surprised.
---
The mane six are obviously in here but I cannot put that tag up thanks to limitations.
Cover art by PnkLafter. THANK YOU!
Chapters (8)