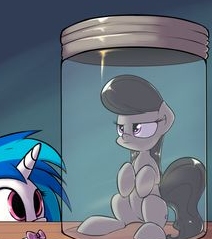 After a long talk with her mother, Vinyl is kicked out of the comforts of her home and forced to move to a new town. But her new home is far from perfect, as the place seems to be... haunted. Vinyl talks to her landlord who makes a bet that she can't capture the ghost of the mysterious cellist that was murdered years ago. Vinyl takes the challenge, and the whole town is taken aback by the mysterious truth that surrounds the home.
[So here I am, taking a small break from writing my typical stuff to do another one shot, this time, I'm going to practice my "comedy" and "mystery" writing. I'm going to warn you, my humor is pretty bad, but comedy is relative.... like time... or something.... ugh! At least I don't completely suck at mystery....

]
I'm just going to add a little disclaimer here.... If you think I should change this rating at any time, be sure to let me know

WARNING! This contains: Inappropriate humor, stoner humor, death mysteries, murder, sexy jokes, alcohol, drug use, lesbian pony romance, and ghosts.
I'm so sorry for this....
Chapters (6)