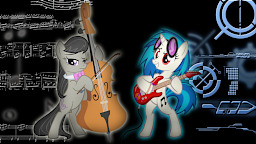 This story is a sequel to Syncopation
---
Vinyl Scratch and Octavia Philharmonica. There's nopony in all of Equestria that doesn't know these names. They are the pinnacles of their genres and the peaks of every genre in between, but it wasn't always this way.
When they first met, Octavia was fresh out of the Canterlot Conservatory and Vinyl was the only member of Syncopated Records, a new music company created by Fancy Pants and his wife Fleur de Lis. They have grown since then, overcome trials both as individuals and as a company, but Fancy Pants still has greater plans for his company. Plans to expand, to become bigger names, to be known not only in Canterlot, but in all of Equestria! In order to do this, the musicians of Syncopated Records, Vinyl, Octavia, Harpo Parish Nadermane, and Lyra Heartstrings will travel through the princessdom, playing their songs and trying to make their own mark in music.
But it will be difficult. They'll have to be more than a company and more than a music group. They'll have to work together, getting used to their off-beat attitudes until they can work as one.
Syncopation must meet with Synchronization.
Chapters (9)