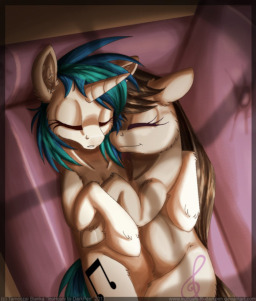 Source
It's been three months since Vinyl was forced to move out of Octavia's house.
The cellist couldn't handle the constant arguments that were filling their daily lives together.
Octavia's friends and family support her decision to get away from the DJ by offering all the help she needs.... even a bit too much....
Octavia still gets angry whenever Vinyl Scratch, or anything related to her (like her wub-powered dishwasher) is ever mentioned in a conversation. She wants her friends and family to stop pestering her about it for that part of her life is done.....
....
..... Or is it?
Just a silly idea I got while cycling back home two days ago.... What's the correlation between the theme of the story and cycling?
Honestly, I'm still searching...

Anyway, Second real PONY Fiction. and WITHOUT the AU tag THIS TIME!!!!

Chapters (1)