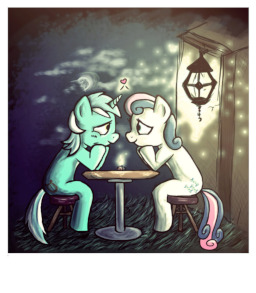 Source
The Day was long and Bon Bon had just closed up her small sweet shop.
Lyra was relaxing on the small couch in the living room.
as Bon Bon entered the living room she placed herself next to her marefriend.
"hard day?" asked Lyra with a bemused smirk on her face.
"You have no idea" answered Bon Bon. with a deep sigh of delight she started to snuggle against Lyras chest.
"could you tell me a story, Lyly?" she asked with big fillyeyes.
---
---
Edited By Flutterbrony539
Chapters (1)