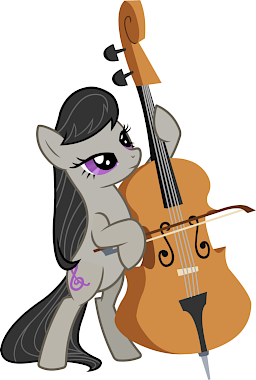 Source
Just a little short story about Octavia and Vinyl Scratch practicing their respective instruments… in the same room. Which, for anypony who knows them, obviously will lead to… problems.
The name also has a double meaning because I'm practicing. Practicing writing that is.
This is my first story posted on Fimfiction, and is mostly only just practice as I said. It is also to figure out how posting a story even works!
POV Characters:
- Octavia Melody
Other Characters:
- Vinyl Scratch AKA DJ-pon3
NOTICES:
Contains Octavia x Vinyl, which is a lesbian shipping. If you are homophobic feel free to NOT read my story. But if you wish to read it, realize that there is nothing wrong with homosexuality, and then become a good, loving and tolerant person… That's okay too.
I don't have an editor or pre-reader and I wrote this really quickly, so it probably sucks. I'm not really a good writer and I know that. Just enjoy it as it is, for what it is: Fluff.
(I also know I overuse ellipses!)
Constructive criticism is welcome, but I'll be honest: I'm kind of easily hurt, so try to be kind about it please.
There will be no clop… but there will be subtle hints. (Or maybe not so subtle). All only mention of course. No explicit mentions though, don't worry…
This story concept could very easily have already been used by someone on this site or beyond. However, if this is the case, I have not ever seen it. So sorry if I seem to be copying someone. It's entirely accidental.
Cover art from MLP wiki.
Edit: This fic now has a dramatic reading on YouTube: https://www.youtube.com/watch?v=q-5UUJ4bvn0
PS: Not planning a sequel or anything, but if I get surprisingly positive results I might. Let me know if you want one etc. etc.
I'm not a huge shipper of Octavia x Vinyl, but I do passively ship them. I've been reading a lot of fics about them lately and decided write some myself. That way, if I screw up, I won't ruin one of my favourite ships!
Chapters (1)