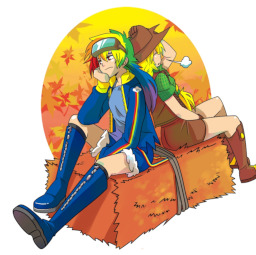 Source
Your classic, everyday romance and adventure story with the best couple, musical numbers and plotline ever.
Applejack has always been the subject of bullying at her school, mainly because of her style of clothing and Southern accent. She found it hard to live with this most days, but when a poster appeared announcing needed members for a band, well, she thought she'd found her chance.
Of course, she felt moreso when she met the founder, Rainbow Dash.
---
Big thanks to all who helped with this story - editors, song writers, and, of course, the users who post supporting comments on every chapter.
Chapters (7)