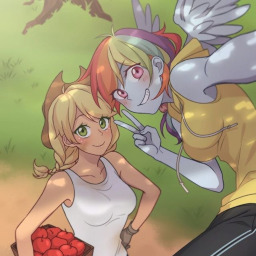 Applejack and Rainbow Dash are two fresh-out-of-highschool, broke college students who are inevitably paired together as roommates in a scrawny apartment above a local café. The two girls, who have both nothing but nearly everything in common, survive through four years, struggling to make tight ends meet and comforting one another through tragedies and triumph. But throughout those years of living together, neither of the girls cease to reveal their mutual feelings towards each other.
That is until Rainbow gets accepted into her dream job in an entirely different city, leaving Applejack in the dust. Is it too late for her to confess her love, or will she never get the chance to get things off her chest?
---
inspired by one of the prompts here.
Chapters (1)