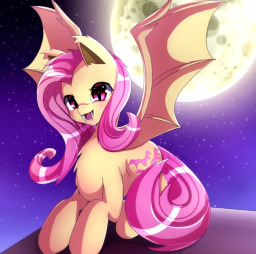 Source
This story is a sequel to Trials of Blood and Kindness
---
Mistress Flutterbat has been living with her family in Cloudsdale, where her parents did their best to lead the local clan of thestrals in peace for centuries. However, after a terrible tragedy that changed her life forever, the young thestral was forced to flee Cloudsdale and seek a new home in Ponyville.
Now known as Fluttershy, and with Rainbow Dash by her side, she is trying to heal old wounds in her heart and find a meaning to her empty life.
Will a vampony with a good heart and kind nature survive in a world that sees her as a threat?
Will she be able to keep a low profile, away from the silver arrows of monster hunters?
And most importantly, will her friends help her during these hard times, or will they ultimately turn against her?
This story takes place years before Nightmare Moon's return.
List of editors, thanks for your help, you did a great job:
ShipIsLove ShipIsLife
Soge
Alticron
Word Worthy
Thanks for assisting with Zecora's sentences, it really improved her talking style: Discord_Lexia
Thanks for pre-reading and assisting with the funeral scene:
Rated Ponystar
Chapters (39)