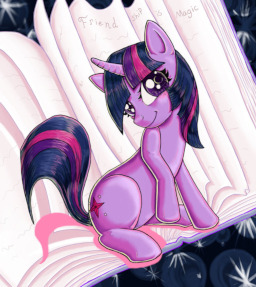 Source
This story is a sequel to Celestia's Tiny Student
---
(Title changed from "Ponyville's Tiny Librarian" for reason pointed in this blog )
Twilight Sparkle is a one-kilogram pony the size of a large rat, shrunken by Princess Celestia following her entrance exam to the Celestia's School for Gifted Unicorns to ensure that her power surges would not pose a danger to the ponies around her.
She's spent thirteen years full of hard training at her new size, facing the life-threatening experiences that came with living in a world of giants. To survive those thirteen years of hardship and joy, of learning and adventure, and of pride and humility, Twilight has challenged herself to be stronger, to overcome any obstacle.
Now that tiny Twilight is on her way to Ponyville to oversee the preparations for the Summer Sun Celebration, how well will this miniature mare fare outside of the confines of the castle? How will the other Element Bearers react to her? How will Nightmare Moon react to the tiny unicorn? Is Twiny prepared to face Ponyville, and, more importantly, is Ponyville prepared to face her?
Credits:
Art cover - kc day
Top editors: (editing and rewritting for months, hope quality is to your liking).
Kydois
Georg
Nightmare Moon's sentences editor:
Bahatumay
Applejack accent editor:
Crimson Star (Chapter 1 - Applejack)
Rebel Brony
The Notebook is grounded
Pinkie sentence's editor:
Plump it UP
Other editors:
Hereward
tana1100
Lab (small editing from prologue to chapter 4)
Pre-reader:
Rated Ponystar
To celebrate the release of this sequel, I created a group called "Twinyverse" for all fans of this story where you can talk about it and track all side stories with ease.
The Twinyverse Group
Chapters (25)