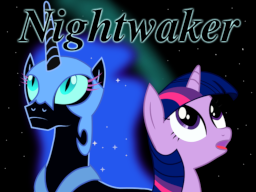 No longer a powerless blank-flank, Twilight, together with her friends, faces the return of Nightmare Moon... with Twilight having no idea what her magic might do next!
Sequel to Twilight Runs Away.
Also serves as Luna's entry in the "Nightmare" series of independent stories about the redemption of each of the alicorn Princesses (see Friendmaker and Daybreaker). Note: you do not need to read these before Nightwaker. But if you choose to circle back to them at some point, I won't mind!
Chapters (3)