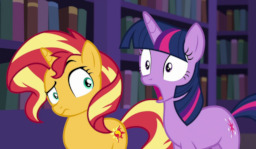 This story is a sequel to Never Any Doubt
---
Needing advice on an important project, Twilight, Tempest, and their friends work to reopen the mirror portal, and rescue a former student of Celestia's... Sunset Shimmer.
Note: This story assumes the backstory for Sunset presented in: Sunset -- Part I and Part II.
For more of this AU, see: By the Light of the Moon
And also check out the series, beginning with Not Exactly Friends.
Chapters (3)