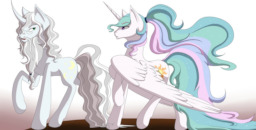 Source
When Sunset Shimmer brings the element of magic into another world, and introduces magic into the main six, she gathers the attention of a secret world of magic of which she hadn't known of, sending them all down a path that none of them could have foreseen.
Now the girls are being sent to school, to learn about their new magic, and their newly expanded world. No one knows for sure what the consequences of these newcomers to the magical world will be, but there is someone who may.
---
This is a Harry Potter / Equestria Girls crossover story.
The story's setting begins at the end of the first Equestria Girl's movie, taking a different direction from subsequent movies.
A basic understanding of My Little Pony and Harry Potter may make the story easier to follow or enjoy, but should be accessible regardless.
Chapters (11)