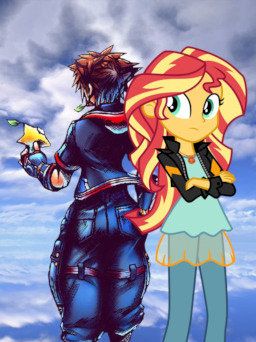 Sunset Shimmer sees the same phantom throughout Canterlot High School. A boy her age with spiky hair, who briefly appears before vanishing. It catches her eye, distracts her from her friends and their fret on the future. The future of Equestrian magic, the future of their powers, the future in general. Sunset can't focus on that when the present holds a mystery she is forced to solve, especially as it overwhelms her as the days wane. The boy appears in two places at once, then three, until she comes to school to find dozens. Sunset is at the end of her rope when she stands face to face with him, the real him, unconscious within the portal leading to Equestria. As adamant as she is to help anyone in need of help, is it wrong to think that Princess Twilight Sparkle can deal with him? Let Sunset figure out the rest of her life with rampant Equestrian magic first? All she has to do is push him further into the portal, into Equestria. But she isn't that kind of person, and pulls him into her world instead.
Takes place after Kingdom Hearts III, and contains heavy spoilers for that game!
---
A complete rewrite of my previous story Kingdom Hearts: Friendship's Turmoil. As such, it has no connection nor bearing to this story besides a similar premise. This story does not require any other readings to enjoy.
---
Sunset Shimmer vector by Uponia
Sunset Shimmer's Necklace vector by CurvesandLines
Sora Illustration cut-out by SubjectULTIMA
Chapters (10)