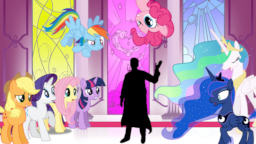 See that title? That's me. Observer. Title equals main character, capiche? Just remember that I'm that one guy that jumps from Universe to Universe being a hero and stuff, like other dummies, except he enjoys it! 'He' being 'I', remember that, kiddies. The only downside is the pain. Which is quite plentiful. I think I'm rambling. I'm supposed to describe this adventure in particular! Let's see, I mess with six little ponies, two specific princesses, and two Wastelanders while saving the day. Sounds about right, and what more would anybody want!? More random characters, I guess, which there is! And maybe a plot that doesn't revolve around me. Blah. Well, at least things always turn out fine for everyone...
That hanging ellipses means nothing, ignore it. A mere typo.
To sum up, just know that things get pretty crazy. Not random crazy, that's just dumb. It's the the type of crazy where there's a story and a plot and emotional, serious bits and everything that makes a story. What's crazy about that? Me! But I'm not the crazy one, just my predicaments. Thought I should make that clear. Claritin clear.
Oh, and though this is crossing over with multiple Universes, knowledge of those Universes is not required. The author has given pictures! Isn't that grand!? Every four year old's dream!
And finally look at this review!
Neat.
You can't get any better than that!
Alright, now for some credit to be handed out. Let's start with that fancy picture on top. That's by the author. But just look at it! Why is Fluttershy the only one with a shadow!? Why am I just a silhouette!? It doesn't make sense! Where's my agent!? Oh, right, I don't have one. Well, give him props for it.
Edited by this guy named Legion222, because Legion221 was taken. Well, not really. This guy just probably liked the number two... which was brought to you by Sesame Street some odd years ago.
Proofread by JoshuaGrahamPony and Rokkurin, two doofuses with too much time on their hands. Like, an absurd amount of time. It's crazy, like my predicaments, not me, memorize that!
And now for each and every vector in that image above… hold on to your butts:
Twilight Sparkle by Jeatz-Axl
Rarity by Givralix
Applejack by Bronyvectors
Fluttershy by Rubez2525
Rainbow Dash by DashiesPet
Pinkie Pie by MoongazePonies
Princess Luna by Chezne
Princess Celestia by tamalesyatole
And I, Observer, was found randomly on the internet, and photo shopped in mere minutes. Quality stuff right here, folks. Stick around.
And for those of you that are still reading, My Little Pony belongs to Hasbro, in case some nut thought I was the corporate CEO of the company. If I was, I'd make many a person happy with my epic stories of heroism. Oh yeah, and more ponies. Can't forget about them.
Chapters (5)