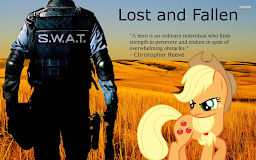 Source
Ponies are enslaved. Humans are in control.
Nolan Anderson didn't want to be whisked away to a land full of discrimination and judgement. Yet he was there anyway. He just wanted to get by another day in his own world, no matter the hardships. Being a part of S.W.A.T. meant being the best he could be with what he could do. Little did he know he would apply his skills in a magical world, where the ponies think he's an evil human, and where the humans think he's a pony sympathizer. As crazy as everything is, Nolan wants to get back home, a feat that seems impossible, even in a world full of magic. However, the difficulty won't be getting back to where he belongs, but finding allies in a place where trust is rarely given, and earning it still.
---
"A hero is an ordinary individual who finds strength to persevere and endure in spite of overwhelming obstacles."
- Christopher Reeve
---
Rated Teen for language, blood, and sexual themes.
The story takes place between season 3 and 4 of MLP; Lots of non-canon material.
Primary Editor: the amazing Legion222.
Secondary Editor: the cool JoshuaGrahamPony.
Proofreader: the neat Rokkurin.
Applejack vector by Fureox.
---
I have never been a part of S.W.A.T., nor have I done extensive research on it. I have only taken a quick look at some procedures, weaponry, and armor for the purposes of this story. If you find something that doesn't seem right, please let me know. Also note I have taken a few liberties with how S.W.A.T. works that I will not change.
Chapters (25)