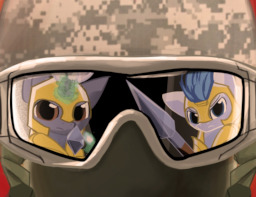 Captured by your enemy. It's something that no soldier wants to think about, much less experience. Unfortunately for one U.S. soldier fighting in Equestria, that's exactly what happens. At the mercy of the ponies, he will have to resist their attempts to extract information from him, and hope that he'll see freedom again.
(Language warning for those who care.)
Many thanks to my prereader, Cosmic Cowboy, for letting me bounce ideas off him, and not letting me upload garbage.
Cover art by the awesome (and patient) Erindor.
Appeared in the feature box for a brief time on 10/11/2015. I have no words...
Chapters (18)