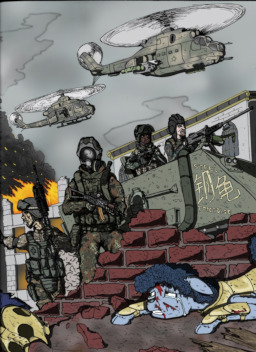 Source
Two worlds, two peoples, two varying ways of life. For Equestria and its people, peace has been a staple of life for generations under the watchful eyes of their alicorn protectors. Resources and necessities for life are abundant, and the few times it has been threatened by external foes have ended in an Equestrian victory.
For mankind however, life is a brutal battle for survival in the war-torn hellscape of nuclear devastation. Violence and survival have been a mainstay for the last three decades, and only recently has a coalition tried to reestablish civilization. But the Earth is dying, and this last bastion of humanity only number around 50,000. For man, doom seems inevitable.
One day, two men accidentally discover something that will change the fates of both worlds forever. One man will discover Equestria and its prosperity, coming into contact with the very best Equestria has to offer. He will be shown kindness, and in turn, he will teach them understanding.
Regardless, the rest of Equestria will come to fear what they do not understand and after a tragedy costs humanity's good will, mankind will be left no choice but to invade in the name of survival. A sad tale, but one that history has repeated on numerous occasions. In the end, it will be up to a handful of individuals on both sides to find a solution and bring an end to the conflict. Will these two worlds come to terms and learn to coexist, or will one species be eradicated by the other?
First featured on 11/15/15
Chapters (39)