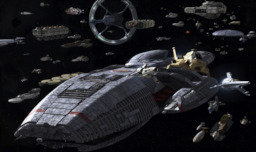 Source
The earth is gone, but humans are not. Launched 20 million years ago, the humans of the Interstellar fleet Avalon Earth have finally made it to their destination. But what awaits them upon the planets surface is beyond what they ever imagined.
Follow along as they make history for all sapient life. Will the residents of Equis find a new friend or will it all devolve into war?
This is my first ever story. Please give feedback and let me know how I'm doing. But know not to expect any kind of an update schedule. My life is crazy right now, but i just had to write this idea.
Edited by Ullar and Dinova0610
Currently Teen. May later change to Mature for battles or the like.
I'm going to put this out there so it will help clarify things. In this alternate universe Equestria girls never happened. season 4 is not done yet so no tirek yet. Some other events have happened while more did not.
Chapters (12)