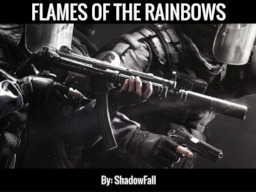 Source
Equestria has seen their fair share of dangers and threats made to their land by gigantic monsters and power-crazy lunatics. From all of these threats, the Elements of Harmony have been at the ready to combat them through the unbreakable bonds of the magic of friendship.
However, a new enemy bearing incredibly lethal weapons threatens to leave the Elements helpless against unprecedented violence. When one Element and two others are taken hostage, a group of elite soldiers contact Princess Celestia to offer assistance. They're professional and more than capable, but Celestia fears they may have ulterior motives. Not to mention, there's the fact that they come from another world.
---
Proofread and edited by: totallynotabrony
Rainbow Six belongs to Tom Clancy, Rainbow Six: Siege belongs to Ubisoft/Tom Clancy, My Little Pony: Friendship is Magic belongs to Hasbro.
Chapters (12)